OURS,
EVERYONE'S,
FOR EVERYONE
Sikka Ingentium, was created as a commission from the University of Navarra Museum and we would like it to become part of its permanent collection. We need your help to make this happen.
All donations are made to the Navarra University Foundation and are tax deductible (amount subject to the autonomous community). Individuals with fiscal residence in Navarre can deduct 80% thanks to the Regional Law on Cultural Patronage.
The University of Navarra Museum is committed to showcasing contemporary art for the public // It promotes the artistic creation of today's artists and encourages them to produce new art // Daniel Canogar is one of the most prominent Spanish artists on the international scene // The most ambitious project of his career, "Sikka Ingentium", was produced with the support of the Museum, where it was exhibited for the first time last summer // The repercussion of this exhibition has been extraordinary: a significant number of young people and people of all ages were able to visit it before its national and international tour begins, which will increment its impact // Faced with the certainty that the importance of this work is going to grow exponentially, the Museum has decided to commit to making the piece part of its own heritage as well as that of its current and future students… // To that end, the Museum launches a donation campaign and asks everyone to do their small part to help keep the piece where it was first installed, in the University of Navarra Museum // And who knows…in a few years, the Museum might be one of those must-visit places to see early 21st-century art // With your help, we can make this a reality // Sikka Ingentium: ours, everyone's, for everyone.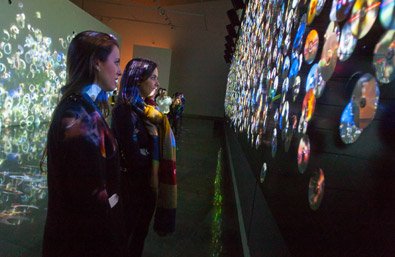 Our donors
In recognition of their generosity, all donors will receive a certificate from the Navarra University Foundation. Donors who contribute €100 or more will also receive a complimentary DVD from the Museum, which contains a video documentary about the Sikka Ingentium installation at the University of Navarra Museum. It will be numbered and signed by the artist, Daniel Canogar.
You can make the donation in your name or in the name of a family member and/or friend.