< Volver a la programación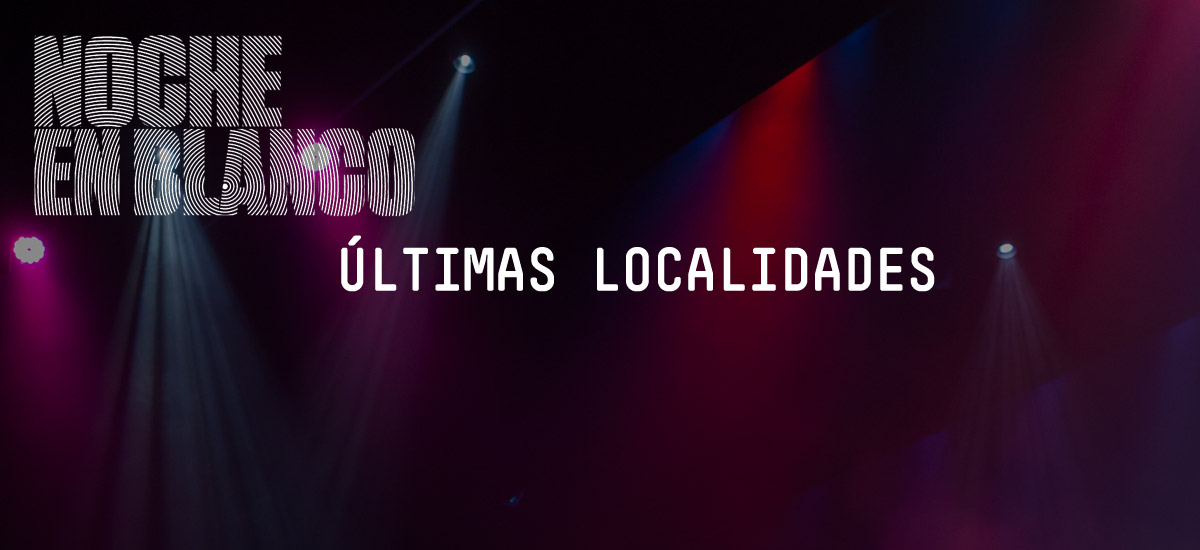 Noche en Blanco / White Night
Celebramos la segunda Noche en Blanco con mucho arte, exposiciones, un taller de creatividad, música en directo hasta las 2am y la final del concurso La Voz de Tu Facultad. Además, y al igual que el año pasado, puedes participar en nuestro concurso de Instagram y podrás ganar dos entradas para el espectáculo de baile Bluprint.
¿Te vas a perder la fiesta del año?
We're holding the second White Night with a lot of art, exhibitions, a creativity workshop, live music until 2am and the finale of the 'La Voz de tu Facultad' competition. What's more, just like last year you'll be able to take part in our Instagram competition and you could win two tickets to see the dance show 'Bluprint'.
Are you going to miss out on the party of the year?
PROGRAMA / PROGRAMME
20.00 - 20.30H APERTURA DE PUERTAS / DOORS OPEN

El dress code es casual.

The dress code is casual.

20.30 - 23.00H ACTIVIDADES EN LOS ESPACIOS DEL MUSEO / ACTIVITIES IN THE MUSEUM

VISITAS GUIADAS / GUIDED TOURS

Cada 30 minutos, saldrán desde el hall de recepción en planta 0.

These will leave from the reception hall on the ground floor every 30 minutes.

TALLER DE CREATIVIDAD / CREATIVITY WORKSHOP

En planta 1, los asistentes podrán realizar una actividad grupal para trabajar la creatividad.

On the first floor, attendees will be able to carry out a group activity to work on their creativity.

PREPARACIÓN DE UN GIN TONIC / GIN AND TONIC MAKING

El ganador del I Open de Gin Tonics de Navarra, Xabier Aguadero, maître del Restaurante del Museo, ofrecerá una demostración de coctelería.

Xabier Aguader, the winner of the gin and tonic competition 'I Open de Gin Tonics de Navarra' and the maître of the museum's restaurant, will put on a cocktail making demonstration.

CAFETERÍA / CAFETERIA

El restaurante del Museo ofrecerá bebidas y pintxos a precios especiales.

The museum's restaurant will have special offers on drinks and snacks.

CONCURSO EN INSTAGRAM / INSTAGRAM COMPETITION

Visita nuestros espacios, sube tu foto a Instagram con el hashtag #InstaMeetMUN.

Visit the museum and upload your photo to Instagram with the hashtag #InstaMeetMUN.

22.30H - 00.30H FINAL DEL CONCURSO LA VOZ DE TU FACULTAD / FINALE OF THE "LA VOZ THE TU FACULTAD" COMPETITION

Los finalistas defenderán los temas que han estado trabajando en un concierto en el teatro. El jurado profesional designará al ganador y el público podrá votar a un segundo ganador.

The finalists will sing the songs they've been working on at a concert in the theatre. The professional judges will select the winner and the audience will be able to vote for the runner up.

00.30H - 02.00H MÚSICA EN DIRECTO / LIVE MUSIC
¿CÓMO PARTICIPO EN EL CONCURSO DE INSTAGRAM?
HOW CAN I TAKE PART IN THE INSTAGRAM COMPETITION?
1. Haz una foto durante la II Noche en Blanco y súbela a tu cuenta de Instagram.
1. Take a photo during White Night II and upload it to your Instagram account.
2. Para poder participar, es impresindible que etiquetes tu foto con el hashtag #InstaMeetMUN
2. To take part you must use the hashtag #InstaMeetMUN
3. El jurado, los miembros de la dirección artística del Museo, escogerán la foto que más les guste.
3. The judges, members of the museum's artistic management, will choose the photo they like the most.
4. El premio consiste en dos entradas gratis para el espectáculo Bluprint.
4. The prize will be two tickets to see the show 'Bluprint'.
5. Puedes participar tantas veces como quieras.
5. You can take part as many times as you like.
EDICIÓN ANTERIOR / PREVIOUS EDITION