< Go back to the programme
Big Band. Conservatorio Superior De Música De Navarra
03 May 2016 / 19:30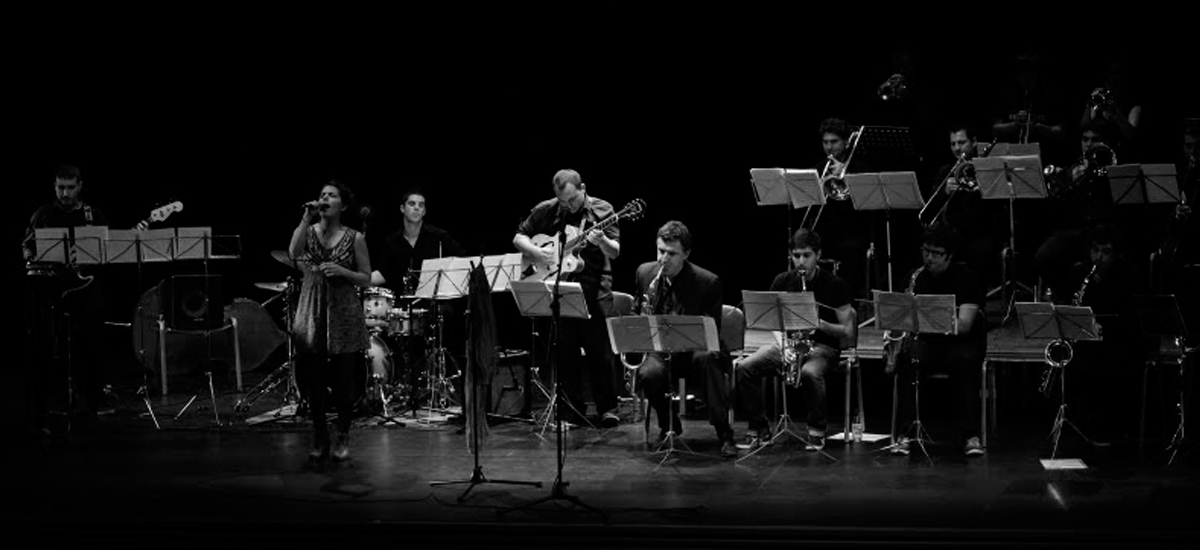 Big Band. Conservatorio Superior De Música De Navarra
Este grupo fue creado en 2005 como una asignatura incluida en el plan de estudios del departamento de Jazz del Conservatorio Superior de Música de Navarra. Reúne a los alumnos más destacados de los distintos instrumentos relacionados con este estilo: trompetas, trombones, saxos, guitarra, piano, contrabajo, bajo, batería y voz.


Desde su creación ha ofrecido conciertos en numerosos lugares, ha participado en el Festival de Jazz de la UPNA, en el ciclo 1cJazz en la calle 1d junto a Bob Sands, ha acompañado al trombonista Marshall Gilkes y a la cantante Sabine Kuehlich.
El repertorio consiste en arreglos de estándares y composiciones originales realizadas para el grupo por su director Iñaki Askunze, profesor de arreglos, composición y Big Band en el centro.
Precio: 6 euros*
*Descuentos para Amigos del Museo (según modalidad)
*20% de descuento para alumnos y empleados de la Universidad de Navarra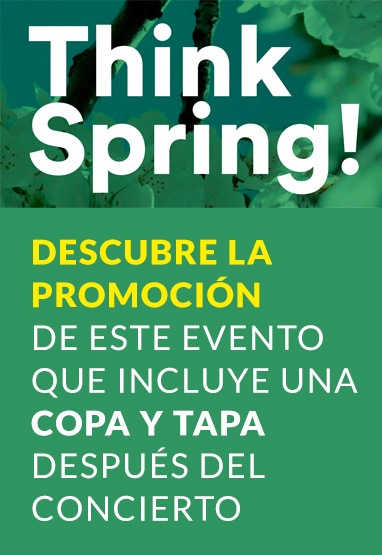 Promoción Think Spring!
Concierto + Gin Tonic + tapa: 12 €
(Elige la tarifa "función + copa + tapa" para la compra online)



REPERTORIO DEL CONCIERTO
Estará formado por arreglos de temas de estilo jazz- flamenco de Chano Domínguez, Paco de Lucía y Chick Corea, y composiciones originales para Big Band con letras de Federico García Lorca. Todos han sido realizados por el director del grupo, Iñaki Askunze.
Descargar folleto

IÑAKI ASKUNCE
Director del Big Band CSMN
Termina el Grado Superior de saxofón en el conservatorio de San Sebastián con el "Premio de Honor". Profesor titular de saxofón del Conservatorio Municipal "Joaquín Maya" de Pamplona. Estudia durante tres años en el "Berklee College of Music" de Boston. Recibe clases de Joe Viola y de Herb Pomeroy y toca en su Big band. Se gradúa "Magna Cum Laude" en "Performance" (intérprete) y "Jazz Composition ". Dirige la Iruña Big Band durante 10 años. Se traslada a Barcelona donde trabaja con diversas formaciones, e imparte clases, durante tres años, de armonía y arreglos en el "Taller de Musics".Director durante 10 años de la "Pirineos Jazz Orquesta" grabando dos Cd´s, uno de ellos con la colaboración del trompetista Randy Brecker, y trabajando en un proyecto con el pianista de Jazz flamenco Chano Domínguez. En la actualidad es profesor en la especialidad de Jazz de armonía, arreglos, composición y Big band en el Conservatorio Superior de Música del País Vasco (Musikene) y en el Conservatorio Superior de Música Pablo Sarasate de Pamplona. Ha actuado en los Festivales de Jazz de Madrid, Barcelona, San Sebastián, Vitoria (con Manhattan Transfer) etc. Ha sido invitado a dirigir sus arreglos para Big Band jazz – flamenco por la "Royal Academy of Music" en Aarhus (Dinamarca) y por la "Norges musikkhøgskole" en Oslo (Noruega).

MÚSICOS
Saxos: Aritz Ostolaza, Alberto Enguita, José Angel Parcés, Guillermo Gómez, Andoni Aizpuru.
Trompetas: Txema Molina, Mario Díaz de Rada, Alberto Sanzol, Juan Antonio Moreno.
Trombones: Víctor Mateo, Francisco Javier Lopez Mora, Fernando Jorge, Carlos Carbó.
Voz: Ana Irigoyen, Erika Imízcoz, Marta Zapater.
Guitarra: Adrián Fernández, Luis Alberto García Ramos.
Piano: Ramón García.
Contrabajo y Bajo eléctrico: Román Cubelos, Rafa Esteban.
Vibráfono y congas: Salvador Tarazona
Batería: Juan Carlos Hormigo