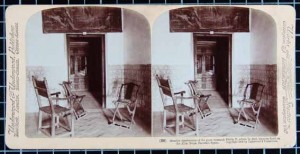 Humildes aposentos del gran monarca Felipe II, donde murió con los ojos fijos en los escalones del altar, El Escorial, 1902
Autor: Underwood and Underwood Ed.
In this image, the chairs seem to have struck up a conversation. The pieces of furniture often adopt human characteristics, which is perhaps not that surprising considering their function. Here, as in many of the other photographs, the light is especially intense and the shadows are sinister. Not knowing where the light comes from makes us think about the existence of another world beyond the photograph frame, in this case, on the inside, after passing through the porch door. The shadow cast by the chair to the right is, in my mind, especially disturbing, like the door that invites us, even challenges us, to enter the building. The chair on the left with its back towards us prevents us from entering the photograph and taking part in the conversation. Not only the chair, the shadow or the door, but there are also other tiny details, though trivial and ordinary, that contribute to the atmosphere of singularity. In fact, they intensify it.
Lynne Cohen, Almas Gemelas, 2012
The Almas Gemelas (Twin Souls) project, by Lynne Cohen (1944-2014), forms part of the series of publications of the Tender Puentes photography programme, of the current art collection of the Museum University of Navarre. In her publication, Cohen makes comments on a selection of 20th century photographs that form part of the Museum collection. Here, we show a selection of three comments.