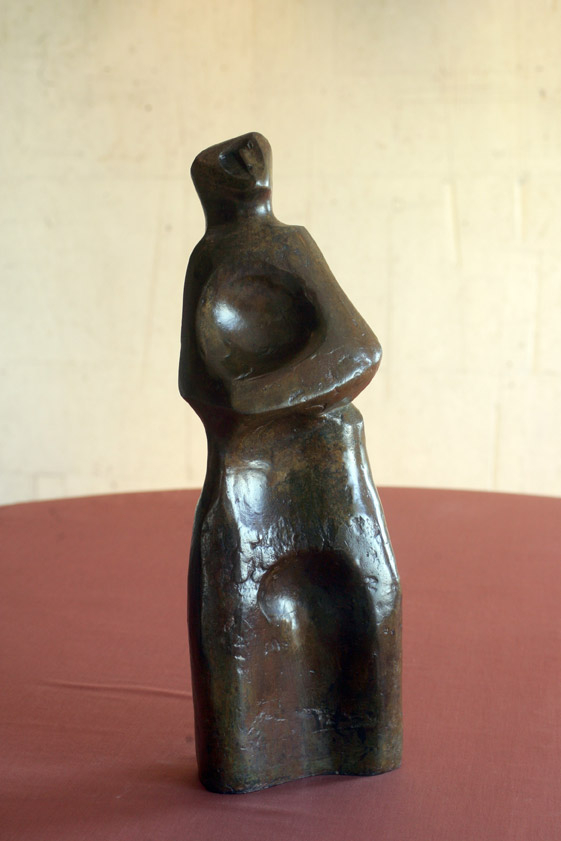 © Jorge Oteiza, VEGAP, Pamplona, 2015
Object information
Bronce a la cera perdida, con patina de color marrón
Firmado y fechado en el lateral derecho OTEIZA 1952
Medidas: 57 x 14,5 x 19,5 cm.
Obra de una edición de 9 ejemplares en bronce no numeradas y 2 versiones en piedra
Procedencia del artista
Jorge Oteiza, Fraile franciscano, 1952
On more than one occasion Jorge Oteiza expressed his admiration for Franciscan spirituality, in which he perceived a capacity for conceiving aesthetic and religious sensitivity as one. This sensitivity is capable of perceiving that "one lives from God in everything" as "was the case in the primitive Franciscanism of Assisi that we have lost", as Oteiza explained inQuousque tandem…!(n. 82).
The Franciscan friar of the Universidad de Navarra Museum of 1952 also reflects this "Franciscanism" of Oteiza together with other works such as Saint Anthony of Padua (1956), which is also kept at the Universidad de Navarra. For Oteiza this theme is closely linked to the Aránzazu project that he was working on at that time, which was precisely commissioned by Franciscan friars. The Franciscan friar indeed shows a marked formal similarity with the Apostles of Aránzazu: it is a masculine figure watching the sky that is dominated by open spaces both in the head and in the chest and legs.
This interest in the void is part of the exploration process that the sculptor was developing at about that time. On the one hand it corresponded to a formal exploration: the study of the clearing of the various geometric elements. However, it also constituted a spiritual metaphor of the inner "clearing" as an image of holiness, which Oteiza found in the writings of Meister Eckhart or San Juan de la Cruz. In his Spiritual exercises in a tunnel(1984), for example, Oteiza commented on his religious works of the Aránzazu period in this way: "This active feeling of holiness is defined in each image, with its figure opening up to others, losing material sense and weight, and being projected upwards".
In this way the "cleared" figure of Franciscan friar, in common with that of the apostles of Aránzazu, was for Oteiza a metaphor for emptying oneself so as to open up to the fellow man of Christian holiness, which means that strictly material laws (gravity) lose their primacy. It is therefore understood that the sculptural exploration of the void, which would be culminated by the Experimental purpose that Oteiza presented at the 1957 Sao Paulo biennial exhibition, was not for him a formal matter but rather an entire existential and spiritual existence.
This is what Oteiza understood by means of the "Franciscanism" of Aránzazu as he declared in 1960: "I have confirmed in Aránzazu that church and statue say the same for me. I have understood that they are not two different worlds, that I do not have different businesses. Every day is Sunday to the sculptor, a day consecrated to spiritual salvation" (Quousque tandem…!, n. 153). He went on to say that that this summarised his aesthetic-spiritual message: "I have no other [message] and it is so simple, so Franciscan. Artistic sensitivity religiously transforms man with his world and with his life. The love given for the statue is a timeless love with no conditions. It is the same love that makes a man an apostle as that making a stone a statue. So all things weigh upwards" (Ibid.).
The figure of the Franciscan friar kept by the Universidad de Navarra is one of the nine bronze pieces that Oteiza made of this subject, of which two versions in stone also exist.
Javier Ortiz-Echagüe
Bibliography
Jorge Oteiza, Ejercicios espirituales en un túnel. En busca y encuentro de nuestra identidad perdida, Donostia, Hordago, 1984
Jorge Oteiza, Quousque tandem….! Ensayo de interpretación estética del alma vasca, Auñamendi, San Sebastián, 1963
Miguel Pelay Orozco, Oteiza. Su obra, su vida, su pensamiento, su palabra, Bilbao, La Gran Enciclopedia Vasca, 1978.