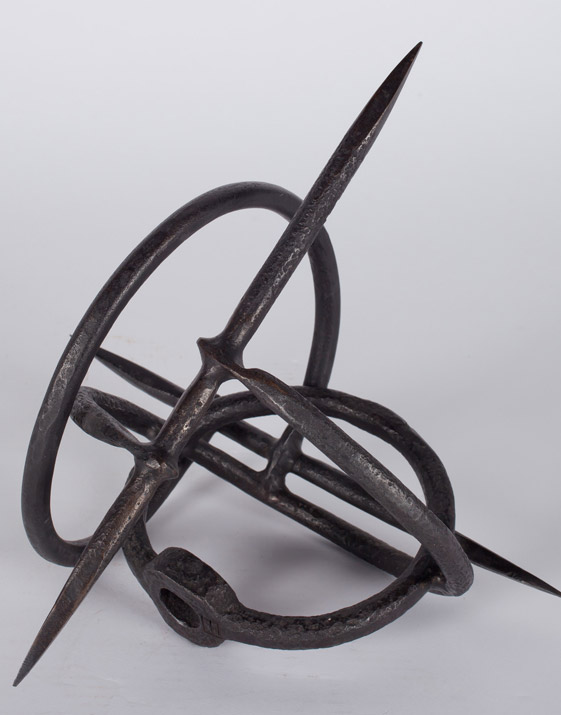 © Zabalaga-Leku, VEGAP, Pamplona, 2015
Object information
Hierro
Firmado en la base
Pieza única
25 x 31 x 27 cm.
Chillida, Música de las Esferas II, 1953
Música de las Esferas II is one of the first sculptures in iron to be made by the sculptor, Eduardo Chillida (1924-2002) in the fifties, after he had left behind the modelling with plaster and stone of his formative years in Paris from 1948 to 1951. The circular piece was made at the Illarramendi forge in 1953, where Chillida discovered the creative power of the traditional iron forge, whose precedents can only be found in Spanish artists such as Julio Gonzalez or Pablo Gargallo. There, he created his first sculpture, Ilarik, which would be followed by others such asPeine del Viento I, Música de las Esferas I, Contrapunto,Consejo al Espacio I and this work. The basis for his later production, in all of them we find the four creative concerns of Chilliada, as Kosme de Barañano has reasoned: the world or air, of fire, of space and of music, fields of inspiration where, to a certain extent, there is "no frame, no spatial structure, the shape is no more than a fixed force in the its path of movement. An abstract image that leads to all the consequences that it entails according to a given schema".
The expressiveness of this work, like the music it suggests, is based on circular rhythms that emerge from a structural core like a space of silence, from which iron appendices flow, like harmonious notes in the air. The circular structure of Música de las Esferas II inverts the static and physical aspect, typical of sculptural masses, to energise the creation of spaces and their respective voids. In Chillida's sculpture, as stated by Kosme de Barañano, "the iron, with its flaws, like scars or folds, show an expressionism in agreement with the abstract shapes of its composition, transmitting to us more of an enigma than a formal solution, more of a poem than an irrational element, more of a metaphysical thought than a space of lyrical drama". Conceived without a pedestal, this work seems to levitate in the air like an intangible and sustained sound of an indeterminate music. LikeMúsica Callada of 1955, inspired by the homonymous poem by San Juan de la Cruz, this work suggests boundless echoes of a signal in space, like the brief flight of a bird or a resonant echo. Chillida revitalises the invisible void, erecting shapes that model and harmonise it, in a poetic buzz of signals that expand and penetrate our space, like a dialogue between air and mass resolved in harmonious gravitation.
Kristian Leahy