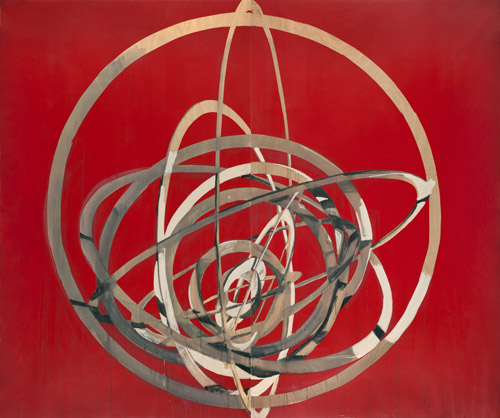 © Manuel Muniategiandikoetxea, Pamplona, 2015
Object information
Acrylic, pencil and scratching on wood (diptych)
310 x 366 x 3.6 cm (each panel: 310 x 183 x 3.6 cm)
RODCHENKO ROJO (RED RODCHENKO) (2004) by Manu Muniategiandikoetxea
The latest work acquired by María Josefa Huarte is by Manu Muniategiandikoetxea, the youngest artist in the collection. The painting is an accurate reflection of the essence of the collection itself in terms of the friction created between the bi-dimensional nature of painting and the volume of sculpture. It also establishes a fluid dialogue with the informalist, abstract and geometric proposals the collection is known for: its dominant use of red connects with other paintings in the collection and the reflection on the empty spaces creates a link with the sculpture of Chillida and Oteiza.
In this work by Manu Muniategiandikoetxea, painting and sculpture are used by a constructive viewpoint bent on analyzing representations that affect the space and questions of space. There is a conceptual discourse that tends to revise the tradition of cutting-edge ideas from a postmodern perspective: it is a bold claim that painting can treat sculpture as architecture. A normalized continuity is established between painting, sculpture and architecture that allows the artist to speak freely about space and how it is perceived in his representations.
In his projects, pictorial, bi-dimensional representations of constructions collide with their three-dimensional counterparts, and this dialogue is precisely what generates the work's spatial and architectural dimension.
Muniategiandikoetxea's projects, which take the form of visual investigations, address works of art and artists that have had a particularly problematic and innovative relationship with space. He has taken it on himself as a construction and a process, like the Russian Constructivists and Rodchenko himself. This analysis of cutting-edge artists is a way of reconnecting with a certain idea in Basque sculpture that flowed from Oteiza to Badiola to land on the next link in the chain of a desire to produce a new, critical reading of tradition that results in a true transformation.
This work on Rodchenko shows a desire to intervene in the space as a means of transforming it. In this way, the painting also becomes the representation of a mode of activism.
Santiago Olmo