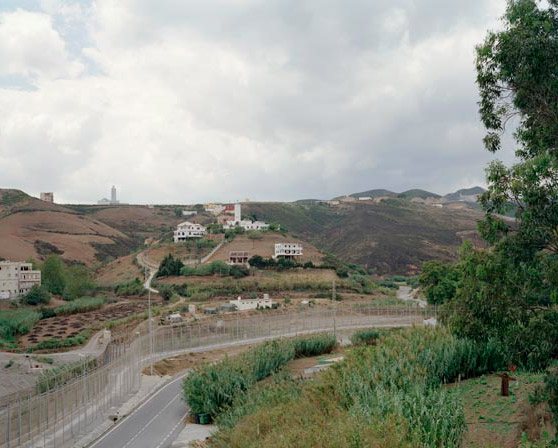 Geografías concretas I. Valla Fronteriza de Ceuta, 2009. Copias cromogénicas C-Type a partir de negativo
®Xavier Ribas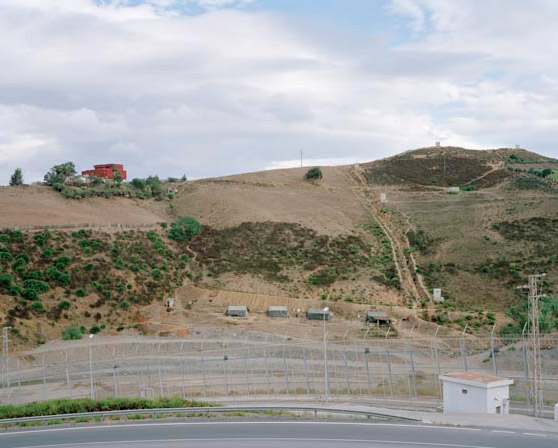 Geografías concretas I. Valla Fronteriza de Ceuta, 2009. Copias cromogénicas C-Type a partir de negativo
®Xavier Ribas
Xavier Ribas. 'Geografías concretas (Ceuta y Melilla)'
The project carried out by Xavier Ribas for Tender Puentes addresses the illustration of contemporary European landscape based on two photographic tours along the border fences of Ceuta and Melilla. Specific Geographies (Ceuta and Melilla) are two photo frames with 22 and 26 photographs each one, where the author visualises the landscape defined by these fences that, apart from defining a colonial /national border between Spain and Morocco, also define an economic border between Europe and Africa, a geopolitical border between North and South and a religious border between Christianity and Islam.
As Xavier Ribas himself explains, "the border fences of Ceuta and Melilla are, for the European landscape of the 21st century, what the bridges, tunnels and railroads were for the landscape of the second half of the 19th century and beginning of the 20th.
In the photo albums of public works by authors such as Clifford, Laurent and Minier or Jose Manuel Sanchez, from the University of Navarre collection, the bridges, roads, tunnels and railroads form a new landscape marked by the desire to open the territory, for movement, traffic, exchange and communication. The border fences of Ceuta and Melilla also define a new landscape, but this time it is a landscape of secession, an architecture of exclusion, that emerges from poverty and is openly racial.
In the words of Xavier Ribas, these photographs purport to be "declarations towards a political cartography of the border fences of Ceuta and Melilla as the real boundary of Europe. The fences of Ceuta and Melilla are the contemporary public works that, as monuments to inequality, can best define the 21stcentury European landscape".