< Go back to the programme
Arte tecnológico/New media art. Daito Manabe y/and MIKIKO 03 Oct 2017 / 19:00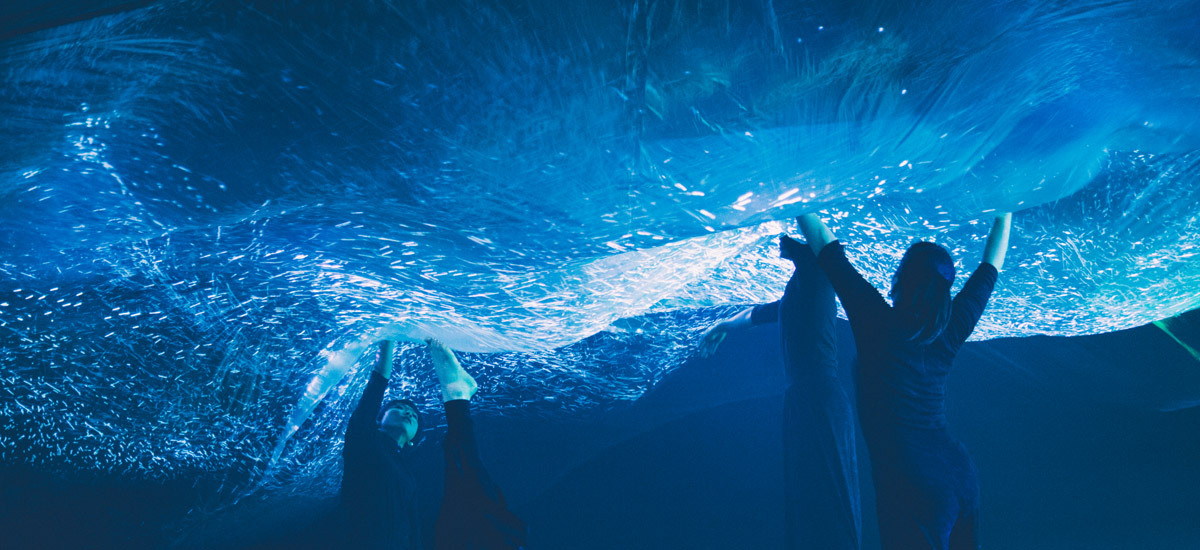 Arte tecnológico/New media art. Daito Manabe y/and MIKIKO
Daito Manabe, el creador de referencia en las interacciones entre arte y tecnología, presenta sus trabajos junto a la coreógrafa y bailarina MIKIKO para mostrar cómo las nuevas tecnologías se integran en la expresión artística de la danza, la música o el audiovisual.
Daito Manabe, renowned for his creations in which art meets technology, presents his work in collaboration with dancer and choreographer MIKIKO showcasing how new technologies can become an integral part of the artistic expression of dance, music and the audiovisual arts.
Esta actividad es posible gracias a la colaboración de Fundación Japón en Madrid.
This event has been made possible thanks to the support of Japan Foundation in Madrid.
Entrada libre hasta completar el aforo. Retirada de invitaciones en la taquilla del Museo.
Free admission until full capacity is reached. Invitations may be collected from the Museum ticket office.

"El artista digital más importante de nuestro tiempo"
El País
"The most influential digital artist of our time."

El País

LA SESIÓN / THE EVENT
Duración aproximada 2 horas / The event will last approximately 2 hours.
Daito Manabe es un creador polifacético: compositor, programador, diseñador, DJ y VJ, y fundador del estudio Rhizomatiks. Su trabajo reflexiona sobre la interacción de nuestro cuerpo con los avances tecnológicos y los posibles híbridos entre hombre y máquina para generar nuevas posibilidades de expresión técnica y artística. Ha sido premiado y reconocido en numerosas ocasiones y es muy respetado tanto por la comunidad creativa como por la tecnológica.

En esta sesión, Daito Manabe y la coreógrafa y bailarina MIKIKO –directora de la compañía ELEVENPLAY- presentarán algunos de sus trabajos, en los que danza y tecnología crean nuevas formas de expresión.

La sesión se desarrollará en el Teatro del Museo y alternará la proyección de vídeos mostrando las creaciones con las explicaciones de los artistas. Habrá servicio de traducción.

Entre los trabajos que podremos ver se encuentran dos clips realizados con el productor norteamericano Nosaj Thing - "Eclipse / Blue" (2012) y "Cold Stares" (2015)- y tres shows interactivos realizados por el estudio Rhizomatiks y la compañía de danza ELEVENPLAY. Los trabajos combinan danza contemporánea, diseño lumínico, drones, videomapping y generación algorítmica de imágenes.
Daito Manabe is a multifaceted creator: composer, programmer, designer, DJ and VJ, and founder of the Rhizomatiks studio. His work reflects on the interaction between our bodies and technological advances and the possible hybrids between man and machine in order to generate new opportunities for technical and artistic expression. His work has won him recognition and prizes on numerous occasions and he is highly respected by both the creative and the technological communities.
During this event, Daito Manabe and the dancer and choreographer MIKIKO director of the ELEVENPLAY Dance Company will present some of their work in which dance and technology together create new forms of expression.
The event will take place in the Museum's theatre and will involve a combination of videos showing the artists' work along with talks by the artists themselves. A japanese to spanish translation will be provided.
Among the works that will be shown are two clips made with American producer Nosaj Thing, Eclipse/Blue (2012) and Cold Stares (2015), and three interactive shows performed by the Rhizomatiks studio and the ELEVENPLAY dance company. The works combine contemporary dance, lighting design, drones, video mapping and algorithmic image generation.

DAITO MANABE. RHIZOMATIKS RESEARCH
El polifacético creador Daito Manabe es uno de los principales artistas digitales de la actualidad, DJ, VJ y programador.

Daito Manabe lanzó Rhizomatiks en 2006 y desde 2015 trabaja junto a Motoi Ishibashi como codirector de Rhizomatiks Research, la división de la firma que lleva a cabo principalmente proyectos intensivos en I + D en los ámbitos del arte digital y el data art para explorar nuevas posibilidades en los ámbitos de la expresión técnica y artística. También realiza proyectos de colaboración con artistas de diversos géneros aprovechando al máximo la programación y el diseño interactivo. Es profesor distinguido en la Keio University SFC.

Ha colaborado con artistas como Ryuichi Sakamoto para la instalación "Sensing Streams", con Mansai Nomura en actuaciones de danza japonesa antigua, con Andrea Battistoni en la ópera "Othello" de Verdi y en conciertos del pianista Lang Lang. En 2017 ha creado "Celestial Frequencies", una obra audiovisual innovadora basada en datos, con un programa de residencias en el centro nacional de astronomía y astrofísica Jodrell Bank Center for Astrophysics de la Universidad de Manchester.

Ha trabajado con la cantante Björk para desarrollar el sistema de imágenes de su vídeo musical "Mouth Mantra" y supervisó la producción de imágenes en directo para su show "Quicksand". Junto a Nosaj Thing, ha participado en festivales internacionales como el Sónar de Barcelona 2017 y Coachella 2016. Precisamente recibió un Prix Ars Electronica, el más prestigioso en el campo del arte interactivo y la cultura digital, por su trabajo en "Cold Stares" y otros vídeos musicales que dirigió para Nosaj Thing. Como Dj tiene más de dos décadas de experiencia alrededor del mundo y ha trabajado con artistas como Flying Lotus y Squarepusher.

En 2011, Manabe comenzó a trabajar en colaboración con la coreógrafa MIKIKO y la compañía de danza ELEVENPLAY para producir trabajos utilizando tecnologías informáticas de aprendizaje automático para crear nuevas expresiones del cuerpo en interacción con drones, robots e imágenes 3D. Esas obras han sido mostradas en festivales como Ars Electronica, Sónar (Barcelona), Scopitone (Nantes) y Mutek (Ciudad de México) y han sido elogiadas por los medios de comunicación en todo el mundo, incluyendo WIRED y Discovery Channel.
The multifaceted artist Daito Manabe is one of the most prominent digital artists of our time. He is a DJ, a VJ and a programmer. Daito Manabe launched Rhizomatiks in 2006 and since 2015, along with Motoi Ishibashi; he has co-directed Rhizomatiks Research the division of the company which carries out intensive R+D projects in the fields of digital art and data art in order to explore new opportunities for technical and artistic expression. He also carries out projects in collaboration with artists from different genres, making the most of programming and interactive design. He is a distinguishedprofessor at Keio University SFC.

He has collaborated with various artists including Ryuichi Sakamoto on the installation Sensing Streams, Mansai Nomura on performances of traditional Japanese dance, and Andrea Battistoni on Verdi's opera Othello. He is collaborating on a concert by the pianist Lang Lang that will be celebrated next November. In 2017 he created Celestial Frequencies, an innovative audiovisual work based on data as part of an artist residency programme at the Jodrell Bank Centre for Astrophysics at the University of Manchester. He has worked with the singer Björk to create the imagery for her Mouth Mantra music video and he supervised the live imagery at her Quicksand show. Together with Nosaj Thing he has taken part in international festivals such as Sónar Barcelona 2017 and Coachella 2016.
He received the most prestigious award in the world of interactive art and digital culture, the Prix Ars Electronica, for his work on Cold Stares and on other music videos that he directed for Nosaj Thing. He has more than two decades of experience working as a DJ around the world and he has worked with artists such as Flying Lotus and Squarepusher. In 2011, in collaboration with the choreographer MIKIKO and the ELEVENPLAY dance company, Manabe began using machine learning technology to create new ways for the body to be expressed in interplay with drones, robots and 3D imagery. These works have been showcased at festivals such as Ars Electronica, Sónar (Barcelona), Scopitone (Nantes) and Mutek (Mexico City). They have been praised by the media around the world, including WIRED and the Discovery Channel.

MIKIKO. ELEVENPLAY
| | |
| --- | --- |
| | La coreógrafa y directora artística Mikiko ha coreografiado más de cincuenta artistas japoneses, muchos de ellos de la escena pop como Perfume, BabyMetal o Ringo Shiina. Con su propia compañía, ELEVENPLAY, fundada en 2009, desarrolla también su propio universo creativo. Desde 2011 la compañía colabora con Rhizomatiks, el estudio de Manabe, y explora las posibilidades artísticas de la fusión de la expresión cinética de la danza con tecnologías como drones y brazos robóticos. |
The choreographer and artistic director Mikiko has choreographed for more than fifty Japanese artists, many of them from the world of pop such as Perfume, BabyMetal and Ringo Shiina. With ELEVENPLAY, the company she founded in 2009, she is building her own creative universe. Since 2011 the company has collaborated with Manabe's studio Rhizomatiks exploring the artistic possibilities of the fusion between the kinetic expression of dance and technologies such as drones and robotic arms.

GALERÍA DE IMÁGENES DE ALGUNOS PROYECTOS DE DAITO MANABE

COLABORA / iN COLLABORATION WITH